Life is unpredictable, and so is the weather. And the American tennis legend, Venus Williams, experienced it in the ongoing tournament, ASB Classic. While en route to Australia, to play in the season-opening Major, the Australian Open; she had also accepted the entry for the Auckland tournament. However, the wildcard entry in ASB proved to be an immensely wild journey for the 42-year-old.
Why did the 7-time Grand Slam champion feel like a 'guinea pig' at ASB Classic in Auckland?
ADVERTISEMENT
Article continues below this ad
Venus Williams opens up about a wild start to the season at the ASB Classic
After successfully getting past, fellow compatriot, Katie Volynets, Venus Williams set up a 2nd round clash with the Chinese national, Zhu Lin. However, despite all her efforts, one variable worked against the American tennis legend; frequent turns of weather, from rain and wind to move indoors after hours of gap, during her match with the Chinese star. The topsy-turvy weather, and playing the first match of the day, made her feel like an experiment. She said, "Being the first match [of the day] is like being a guinea pig. I was the first one out there and seeing what happens." The uncertainty due to weather had a domino effect, making other factors unpredictable.
DIVE DEEPER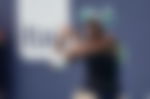 As the 7-time Grand Slam champion further added, "Walking out, we really didn't know what court we were going to play on, whether it was going to be indoors or outdoors. It was hard to understand how you were going to play. An indoor match is different to an outdoor match."
ADVERTISEMENT
Article continues below this ad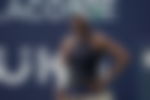 New Zealand, lies in the South Pacific zone, has predictably unpredictable weather. And Williams recently experienced it to the fullest. The match, which began at 12:40, ended later at 7:00 pm. But what was tragic for the 42-year-old was the fact that she felt like she played two matches, due to frequent breaks. Where she lost the second one.
Watch this story: Venus and Serena Williams' 21-Year Broadcast Record Gets Finally Broken…
ADVERTISEMENT
Article continues below this ad
After the 2nd-round debacle, the 7-time Grand Slam champion would certainly look to make a comeback.
Did you watch Venus Williams play in Auckland? Do let us know about her resurgent game in the comments!