"They have outgrown the chewing, the nipping, the digging for play, all those juvenile baby behaviours, the gnawing of the furniture. They might better understand how to walk on a lead. Puppies are joyful and glorious – but not easy."
Shenton Park Dogs' Refuge Home president Karen Rhodes says they get smaller dogs in frequently but never have to advertise them as they go to people already on the books.
She said many bigger dogs (kelpies a notable exception) were couch potatoes who needed daily walking but not a big yard.
Rhodes recommended people fill in a questionnaire and talk to an adoption person at the refuge to get personalised advice and a call when a potentially suitable dog arrived.
And greyhounds?
Toni Donnelly, chairwoman of Greyhound Adoptions WA, told me while a greyhound would occasionally perform the odd "zoomie", overall they were "basically couch potatoes once they settle".
They liked to be inside and were not inclined to bark, though some males tended to get some level of separation anxiety.
She had rehomed greyhounds with both young adults and 80-year-olds.
"They adapt and train quickly, they're disciplined dogs who have already been through boot camp and they are extremely affectionate," she said.
Glen Guelfi, husband of Maureen and also a trainer, echoed that each breed had its specifics – for example, huskies tended to run away when let off the lead.
He had found some little dogs were very snappy while bigger dogs tended to be more easygoing, but believed behaviour came from training, not size.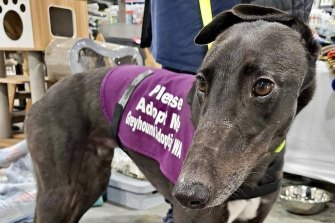 Being little and cute, small dogs got away with more; a little Maltese running up to guests and jumping and barking tended to be excused, while a rottweiler wouldn't, he said.
One reader emailed pictures of her rottweiler-cross rescue hanging out with her 70-year-old mother's rottweiler rescue. "He's big so she doesn't trip on him, he's eight so very well behaved, doesn't bark much and has 40 kilograms to cuddle," she wrote.
What all this suggests to me is that training and socialising a dog to be an asset, not a headache, to a family represents a major upfront time commitment whether you get a "new" puppy or a rescue. The early days will be training-intensive for most dogs.
Loading
So given how many innocent canines are being euthanised and surrendered now, you might as well consider a rescue, take advantage of the expertise the shelters have on their dogs' breeds and personalities, and spend the savings on proper training.
I'll look into the training of adult dogs with specific issues next week and meanwhile, if you're in the market why not visit Shenton Park for a chat (or fill out a questionnaire online)?
You can meet and discuss greyhounds with the experts at weekend markets around Perth, details here.