Foxtail barley's barbed seeds can lodge themselves in dogs' skin, potentially leading to a pricey vet trip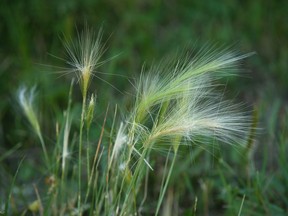 Article content
A city councillor and the local humane society are urging Calgarians to keep a close eye on their dogs as a harmful weed proliferates across the city this summer.
Article content
Foxtail barley is a weed native to Alberta that's become prevalent in several common dog-walking areas citywide this year, according to Ward 12 Coun. Evan Spencer. The plant's barbed seeds can lodge into curious dogs' mouths, paws, noses and skin, causing pain and discomfort for the animal.
"There are lots of folks in Calgary that have had their furry family members end up in the veterinary clinic," said Spencer.
The Calgary Humane Society's associate director of operations, Lisa Olund, said it's important that owners monitor their pets during and after walks. If left untreated or unnoticed, the wound can become infected, potentially leading to a pricey trip to the vet.
"The danger of the foxtails is the fact that the tough seeds don't break down inside of the body, so an embedded foxtail can really lead to a serious infection in a dog," said Olund.
Article content
"They're absolutely everywhere. Just in my own travels, it's basically areas that aren't frequently mowed. So if you're at a dog park and you see sort of that long overgrown grass on the side, it's best to avoid that."
Olund said dog owners should give their pets a quick brush and a once over after every walk, inspecting the paws, mouth, nose and ears while looking for signs of inflammation or discomfort. She said to call the vet if there's swelling or severe irritation.
As far as the continued spread of the weed goes, Spencer said the issue is largely out of the city's control due to the required resources to effectively battle its spread. He said city crews are timing their mowing to cut the plant before it goes to seed and some developers are contributing by clearing the weed from construction sites.
Article content
He said there's a public push to have the plant added to the city's noxious weeds list and create bylaws that would allow the city to "drop the hammer a little harder" on those who leave their weeds unchecked. In that case, however, Spencer said the city would also need to ramp up efforts to combat the plant in public spaces, a move that could eat up a lot of city resources.
"It would likely be a whole bunch of extra work for Community Standards to try to get on top of. A bylaw without really an ability to enforce it is an issue," he said. "We'll keep that on the table as an office because bylaws . . . also kind of help form public opinion and behaviours. If at some point in our interactions with the city they feel like it might be an effective part of a suite of tools to deal with this, we likely will bring that forward."
He said the best way to ensure animals don't get hurt, or get quick treatment if they do step on a seed, is for pet owners to be aware and alert of the situation and avoid areas where the weed tends to thrive.
mrodriguez@postmedia.com
Twitter: @michaelrdrguez