In an adorable series of pictures and videos, the owner of a Doberman pinscher has chronicled the mama dog's adoption of a newborn kitten, found abandoned almost one week after the dog gave birth to her own litter of six.
Brittany Callan of Geneseo, New York, introduced her 4 1/2-year-old Doberman, Ruby, to an abandoned kitten named Ramblin' Rose on Aug. 25, and they bonded immediately.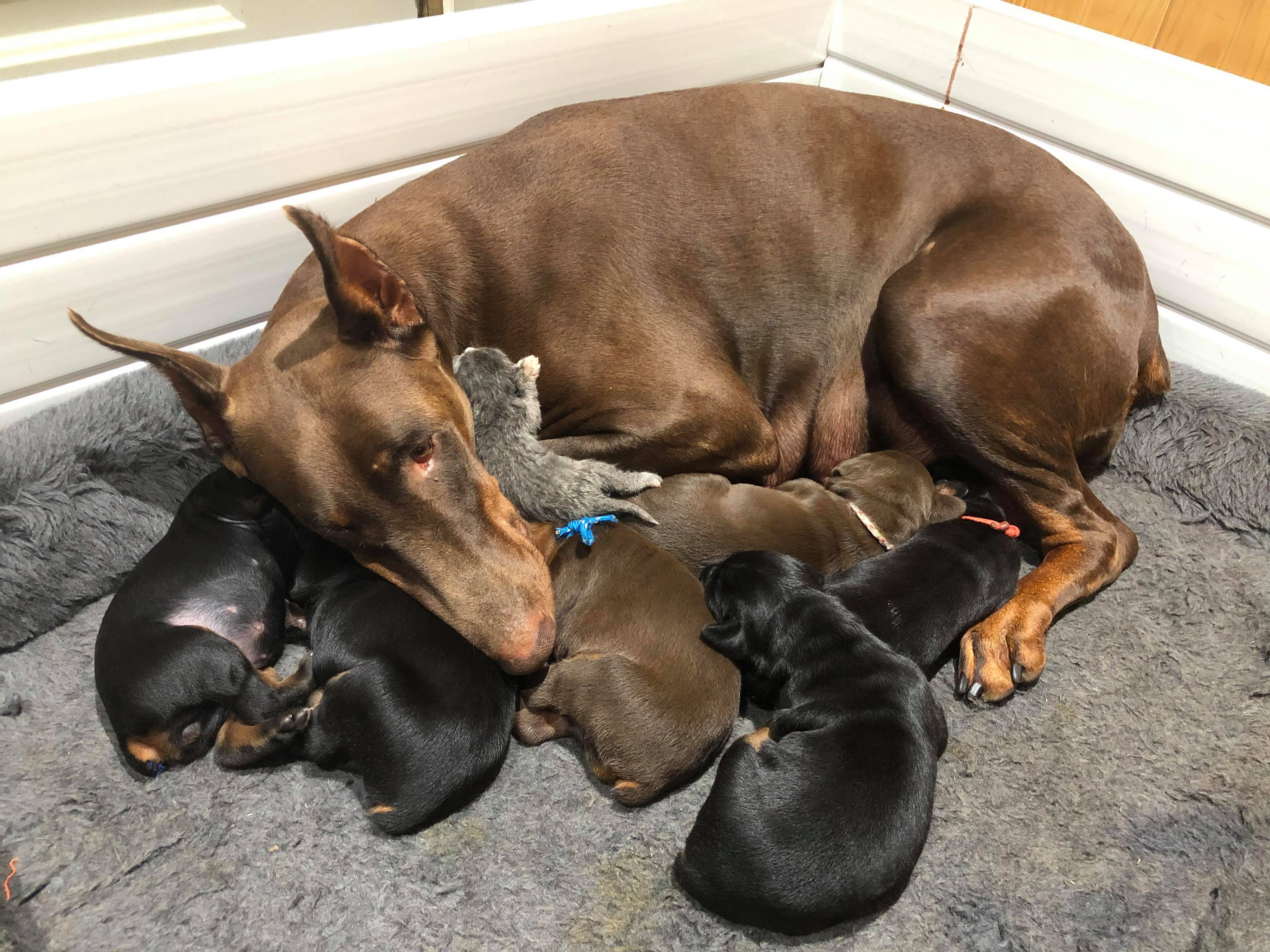 "Ruby started looking at it, cleaning its bottom like it was her own," Callan, 31, told The Epoch Times in an interview. "Then she nudged it and snuggled … it was her mothering instinct.
"That's her baby now, she's obsessed with it."
Callan, who does house remodeling for her husband's contracting company, was working on her cousin's mother's home when she heard a "meowing" sound. Walking around the back of the garage, she found a days-old kitten, and left her there, thinking the mother would return.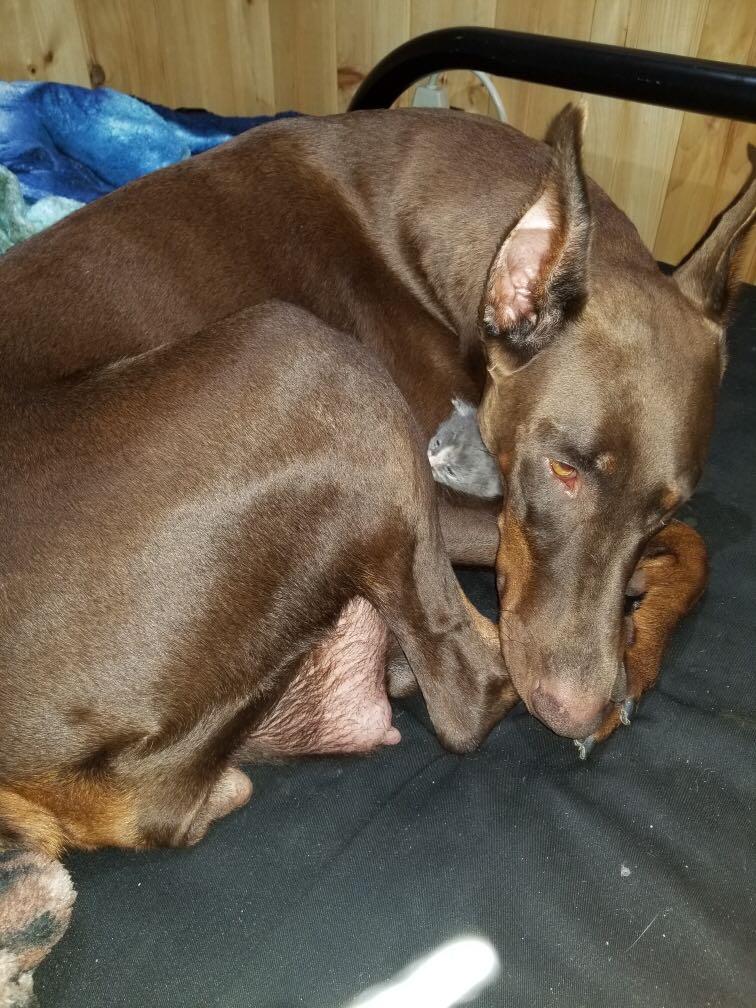 Yet when Callan's cousin Nicole checked back on the kitten at 11:30 p.m., she was still alone, and so she brought her inside. Callan wondered whether nursing mom Ruby would be willing to take care of her.
"[The kitten] still had a dried cord on her," Callan recalled. "Her eyes weren't open, and the other puppies really didn't know any difference because their eyes weren't open [either] … they took right to her and snuggled with her."
Callan, for whom loving animals is "just like second nature," grew up on a dairy farm surrounded by all kinds of creatures. She has introduced Ruby to baby guinea pigs and rabbits in the past, and the Doberman proved to be an amazing adoptive mom in all circumstances.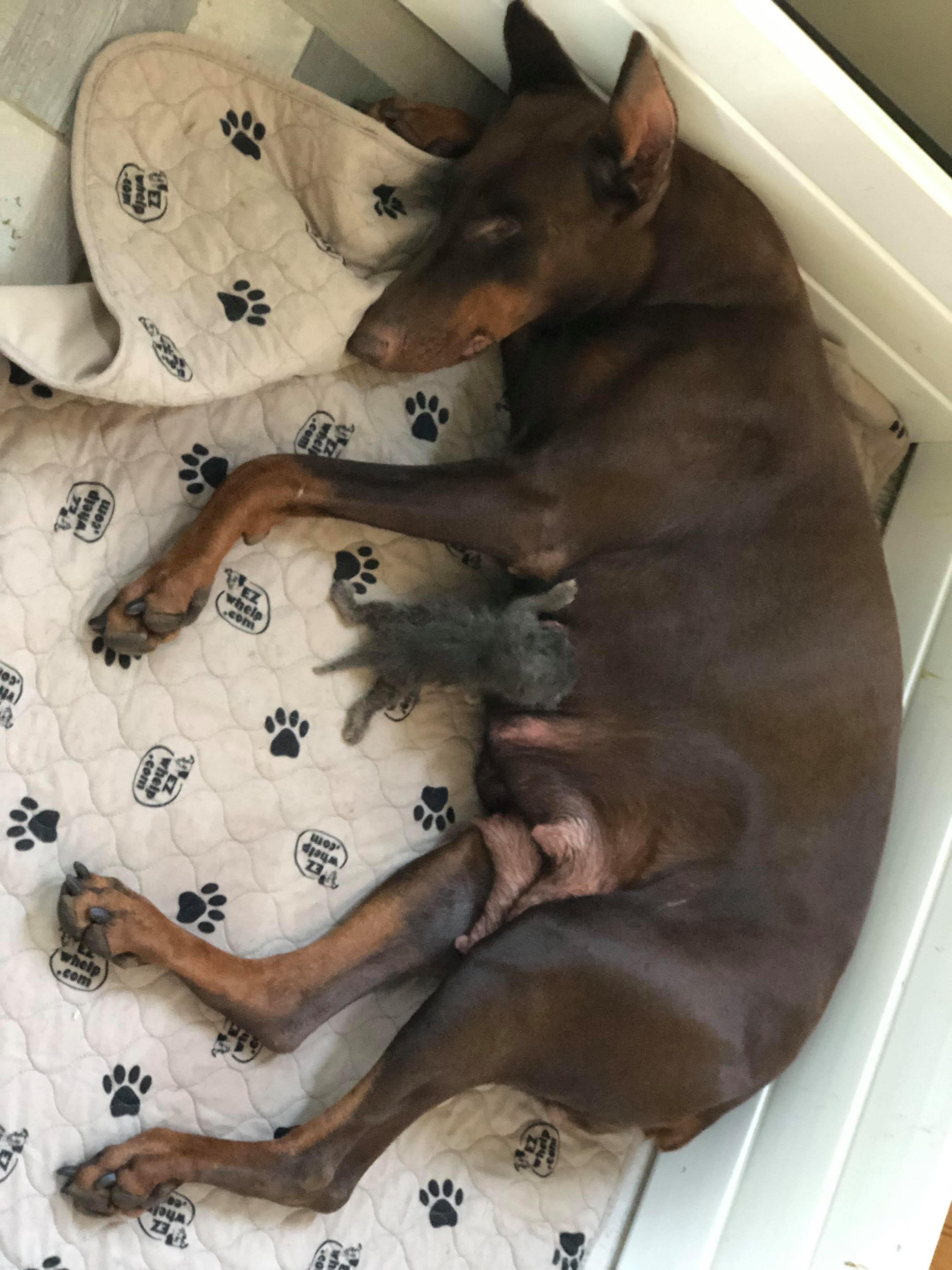 Delighted, Callan posted pictures of Ruby and Rose's first meeting on Facebook, writing, "Seriously cannot get over how well Ruby has taken to this kitten."
Equipped with the kit she needed to feed Rose herself, Callan settled into a feeding regime with her dutiful Doberman. Callan would wake up every two hours to feed the kitten through the night, while Ruby snuggled and nursed her during the day.
On Aug. 29, in an update on Facebook, Callan marveled at Rose's progress saying, "She is doing so well. Gaining weight and crawling around. Her eyes should be opening up within another week, then the fun and playtime begins."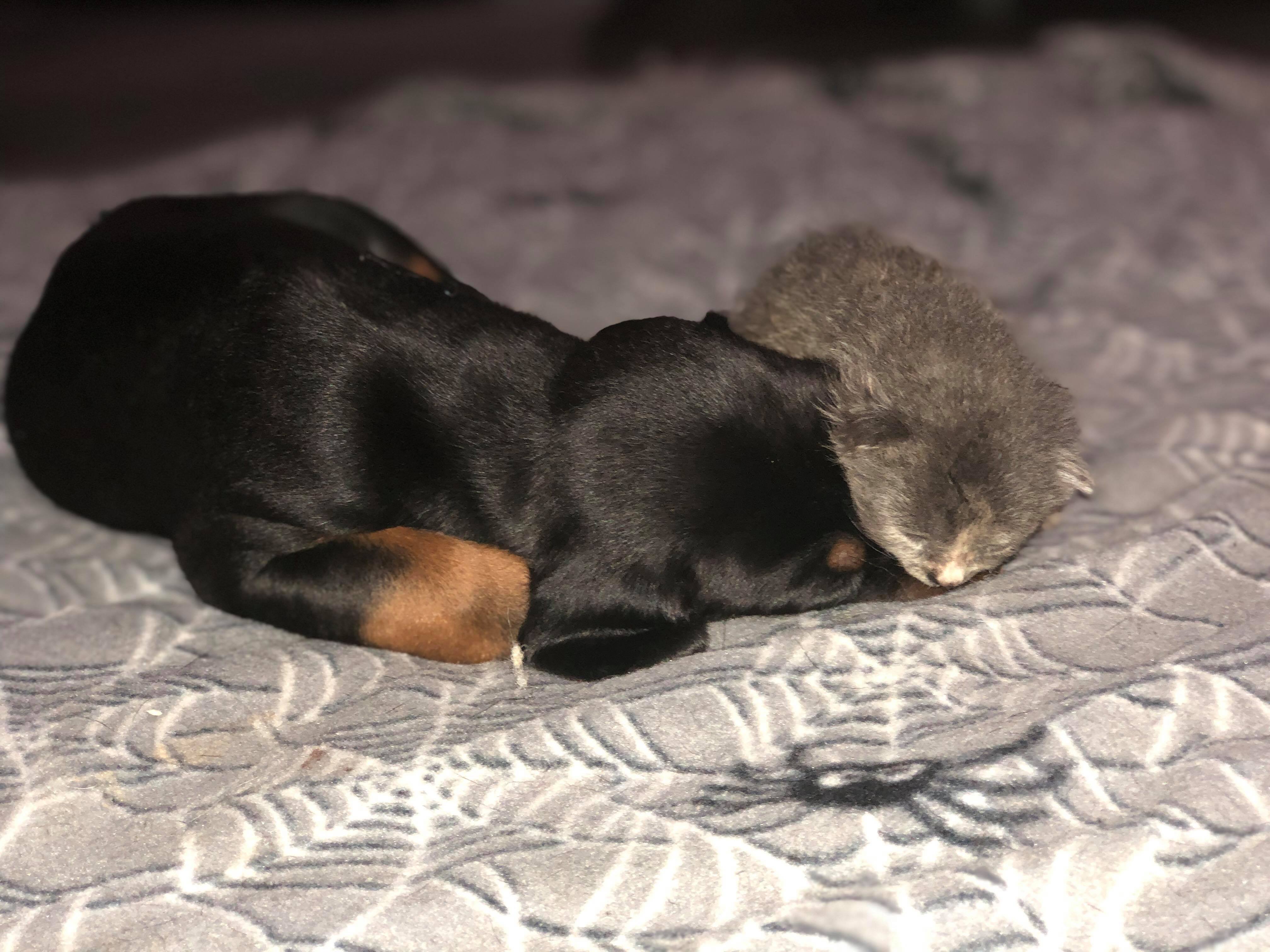 As for how the kitten got its name, Callan says it was her cousin who gave it to her, in honor of her late father. "He always had unusual animals, like a different cat, named 'Fingers,' that had six toes," Callan told The Epoch Times. "'Ramblin' Rose' was one of her father's favorite songs."
Over three weeks on, the 4-pound puppies dwarf their adopted kitten sister, who weighs a little over a pound. But guardian Ruby is always nearby to carry Rose in her mouth, away from the rough play.
Callan remains unsure how Ruby will react when the pair are eventually separated, as her cousin plans to adopt Rose when she is old enough.
Callan's love for Dobermans was ignited by her high school math and soccer coach. She was desperate to take one in, but her parents didn't agree, fearful that the breed was vicious. However, Callan always knew she would have one, one day.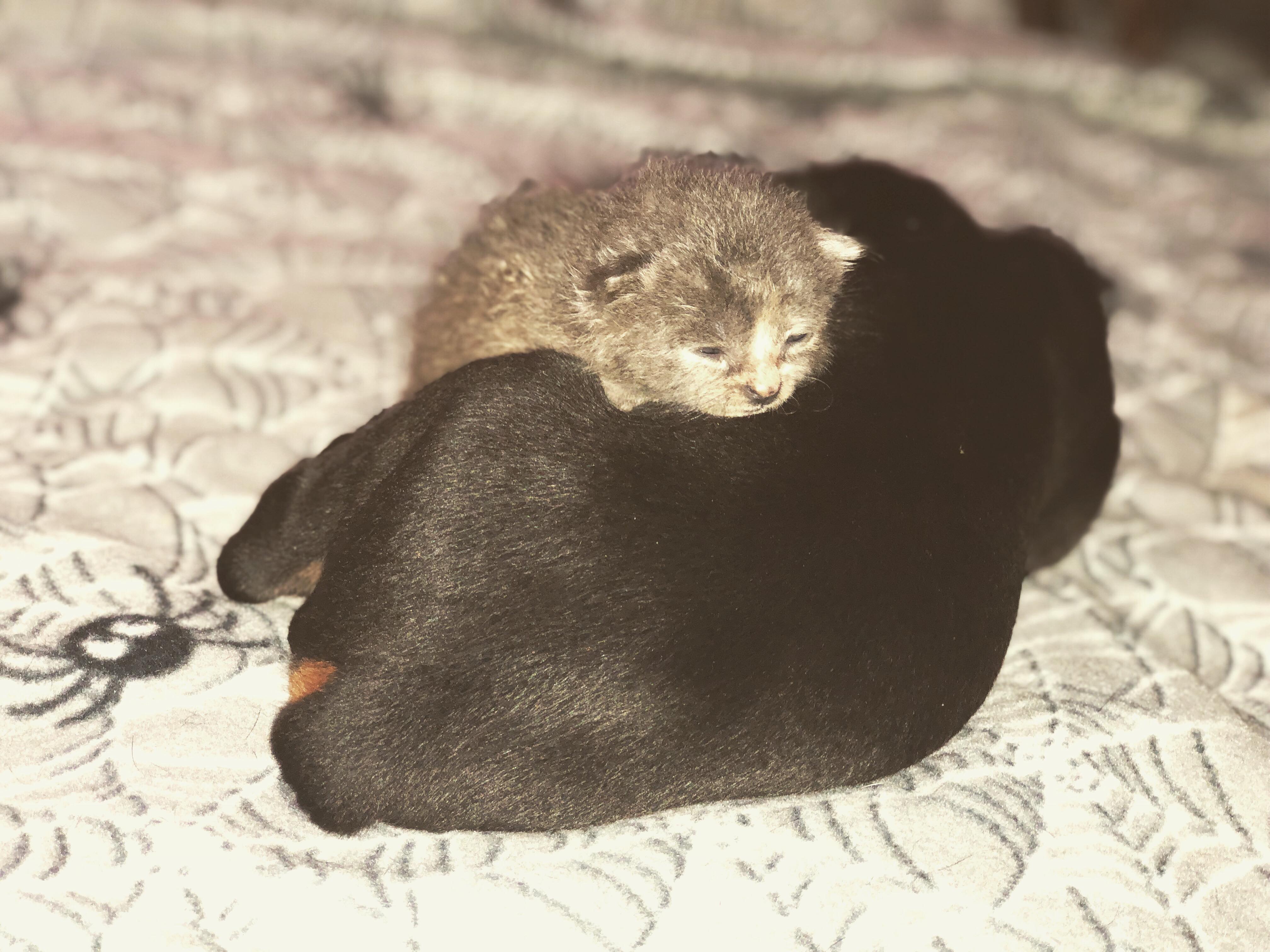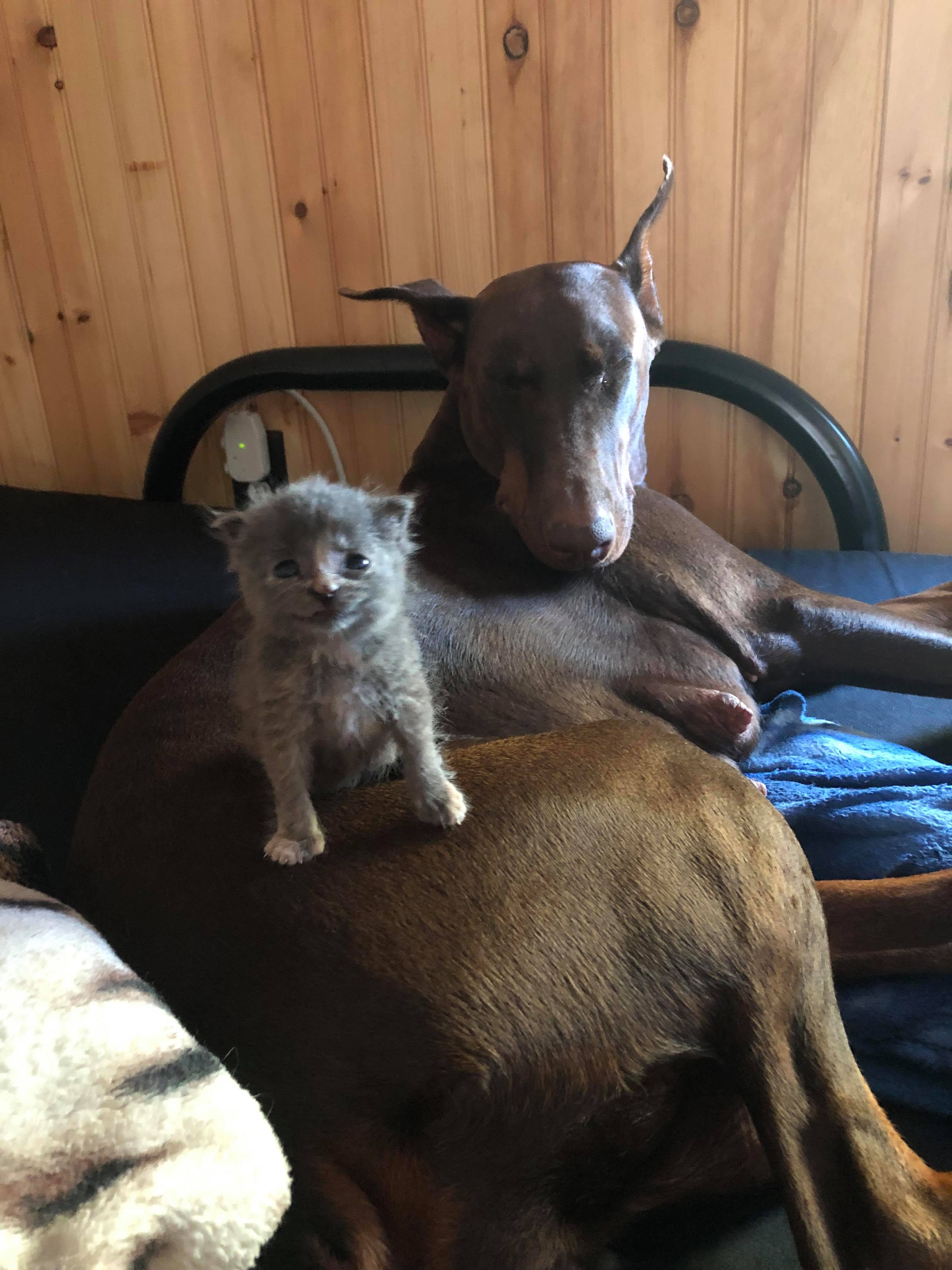 "Ruby was my first, I got her when she was 8 weeks old," she explained. "This is actually her third litter … three boys and three girls. She's always been such a great mom and everyone just loves her; there's quite a waiting list for her babies."
Yet Ruby needs a break; this litter is her last until summer 2022.
Callan, who takes care of 18 dogs in total currently, including six Dobermans, is delighted that Ruby and Rose's story is going viral.
"A lot of people perceive [Dobermans] to be an aggressive breed … they're really not," she said. "It's all in how you train, and that's really what I like to push to tell people.
"It's kind of weird in the world now, there's a lot going on, there's a lot of hate," she reflected, "and this is two completely different species that have come together. Just something really heartwarming."
Share your stories with us at emg.inspired@epochtimes.com, and continue to get your daily dose of inspiration by signing up for the Epoch Inspired newsletter at TheEpochTimes.com/newsletter