A Great Dane puppy outgrowing his canine siblings in the space of two years has made for a hilarious sequence of family photos.
Now 3 years old and weighing almost 200 pounds (90 kg), Maximus the Great Dane is the gentle giant of Caleb and Ashlyn Mellstrom's Minnesota home.
The youngest of the Mellstroms' pack—which includes Pomeranian Dahlia, Labrador/golden retriever mix Cheyenne, and Great Pyrenees/Labrador mix Charlie—Maximus's rapid growth spurt was visible from day one.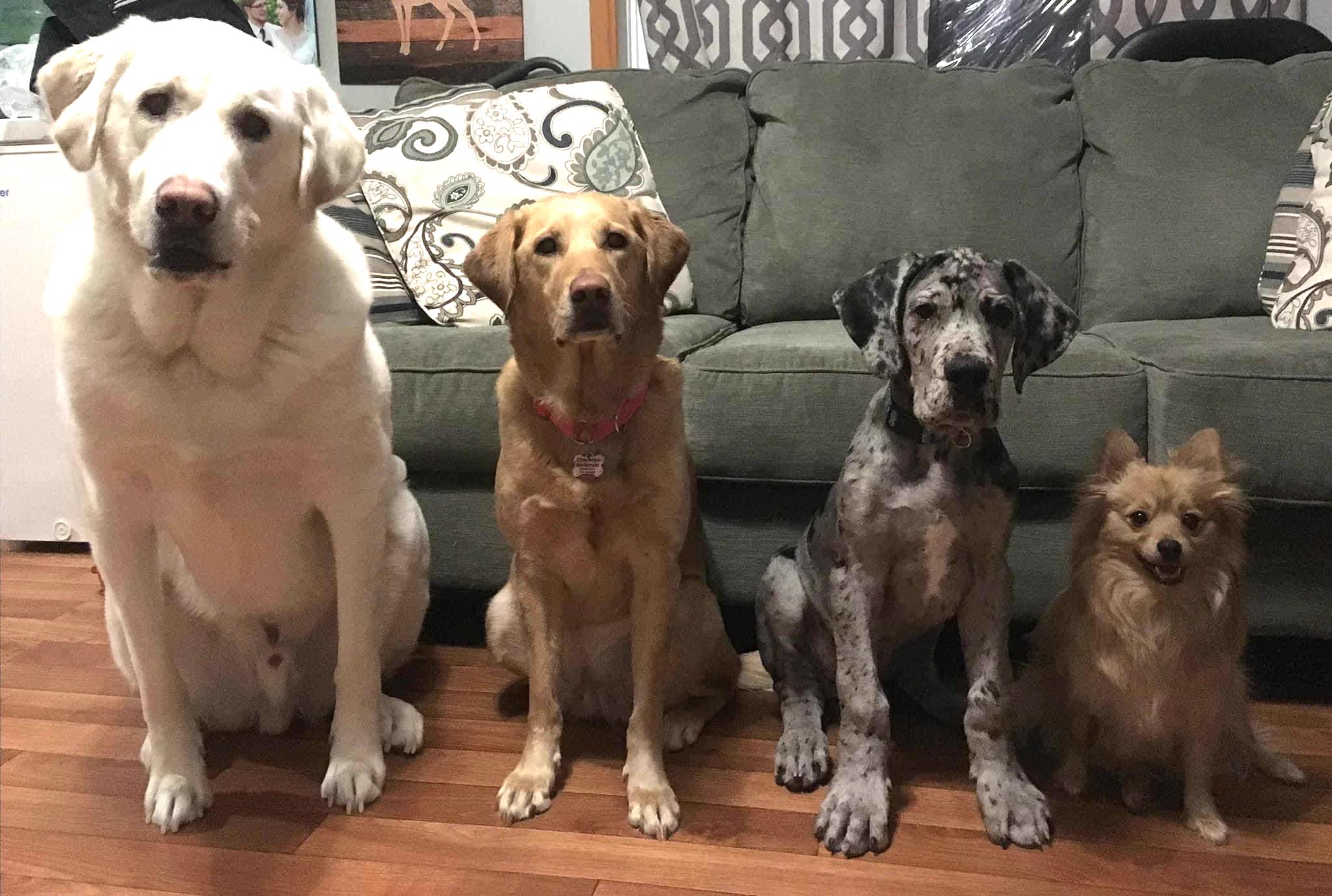 "I started taking growth photos of Charlie when he was about 13 weeks, as everyone kept saying he was growing so fast and I didn't believe them," Ashlyn told The Epoch Times. "Knowing Maximus would grow even faster made me start taking them the day we brought him home."
Savvy Ashlyn used treats to corral her pack into sitting in a line for their weekly photo, in size order. Gradually, Maximus's position in the line ascended.
"Everybody has to sit, which some days can be a struggle depending on who wants to cooperate," Ashlyn told The Dodo. "Once they're lined up, I'd yell silly words that they like just to get them to look, and snap tons of photos."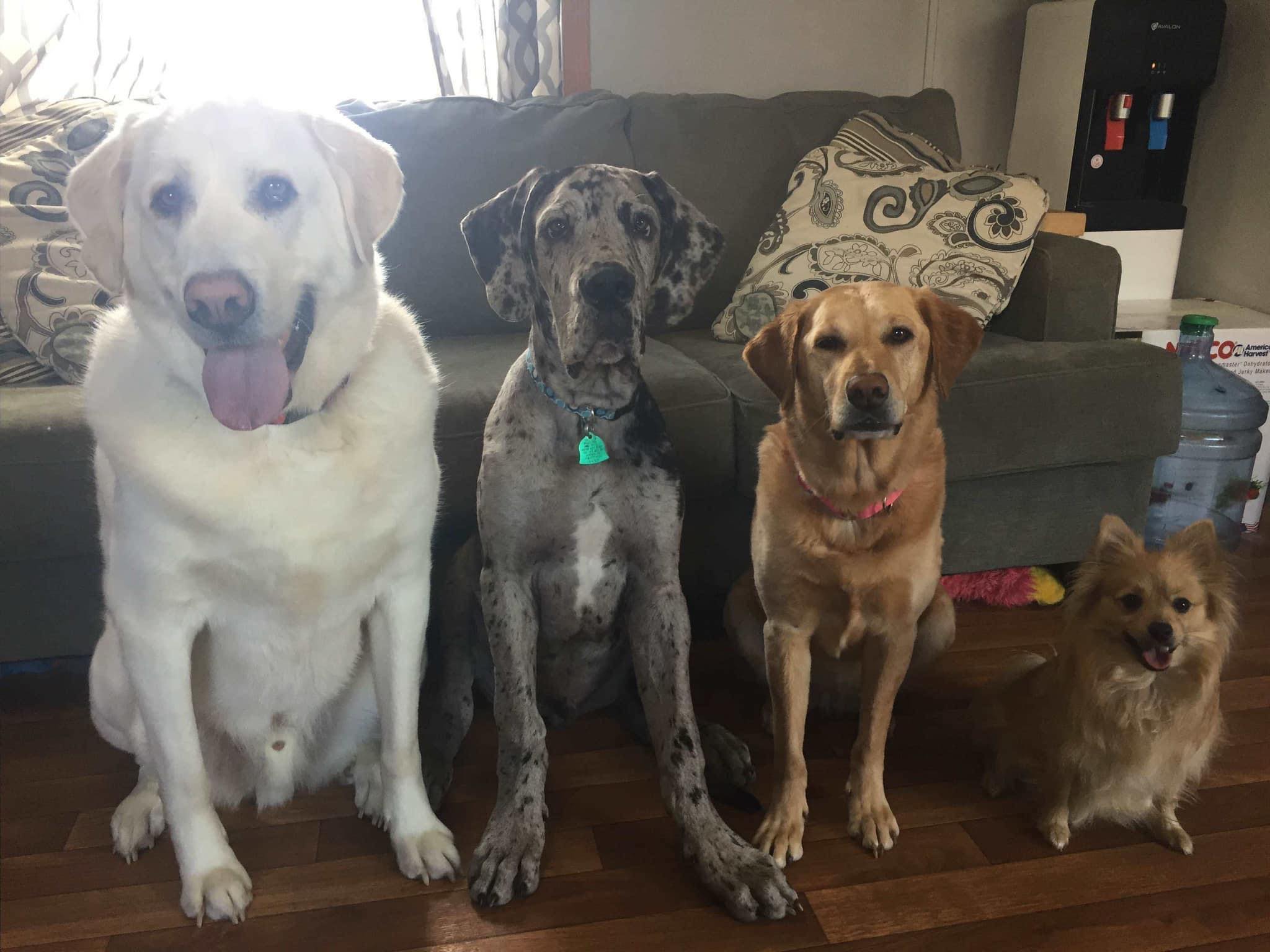 Over the course of time, Maximus has more than quadrupled in size, slowly dwarfing his best buddy, Dahlia. Ashlyn told The Epoch Times that the pair had a very little height difference when Maximus first arrived as an 8-week-old puppy. Today, he towers over not only Dahlia, but the whole pack.
Ashlyn believes Maximus measures around 34.5 inches from shoulder to ground. Yet, to her and Caleb, Maximus is "just an average-sized house dog." It's the outside world, she noted, that is stunned by his "horse"-sized proportions.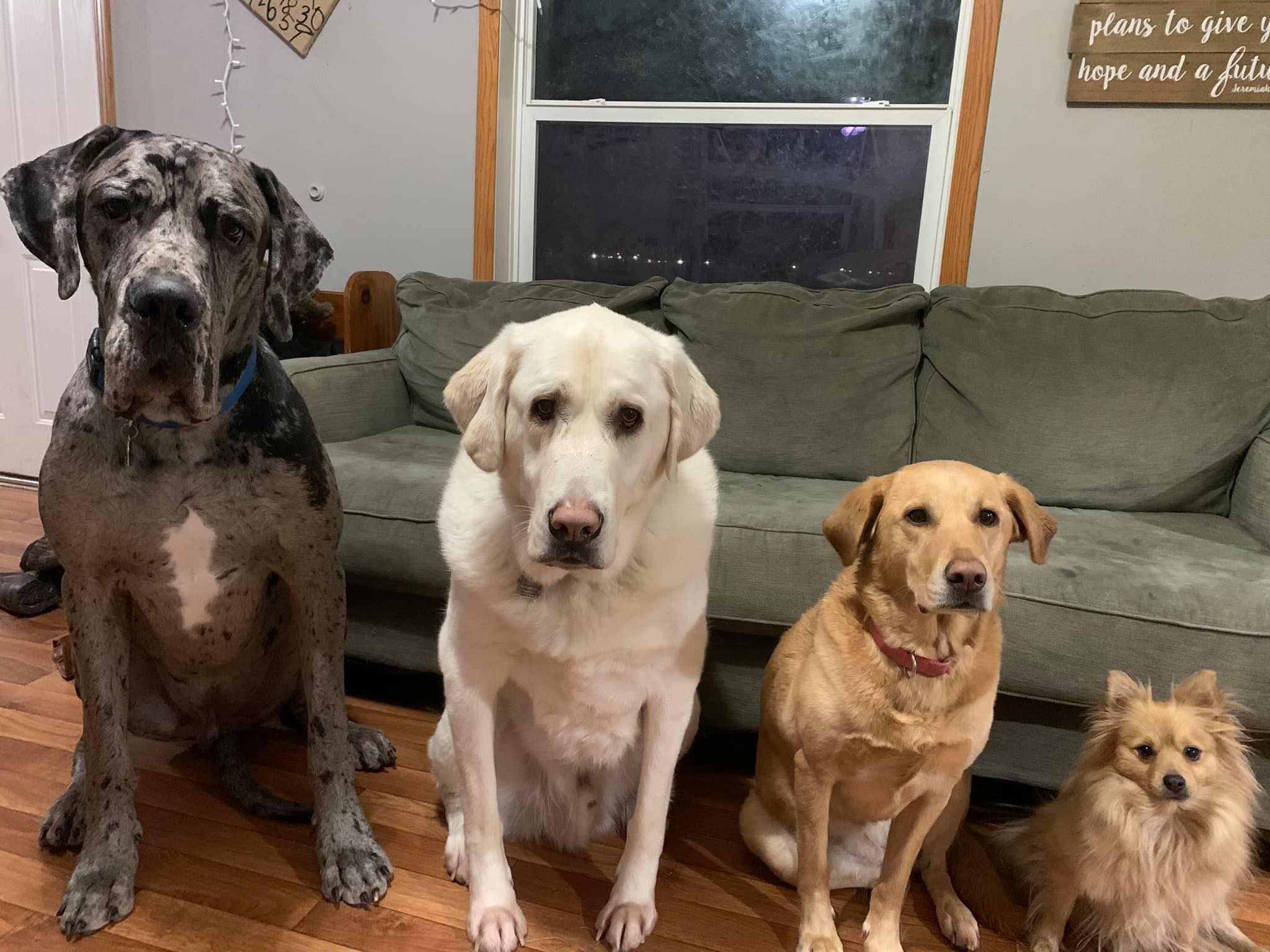 Ashlyn, who describes herself as "a small-town girl that loves animals," already had Charlie when she began dating Caleb, and Caleb got Cheyenne a few months later. When the couple got married four years ago, they welcomed Dahlia into the family together.
The pair lived in a single-wide mobile home at the time. Caleb didn't want four dogs, but after a Facebook post stole his wife's heart, he conceded, and Maximus was welcomed into the Mellstrom household in February of 2019.
Years on, in his quieter moments, Maximus is Charlie's favorite napping buddy. Yet Ashlyn claims he's still a puppy at heart, a "total attention hog," and "100 percent a Mommy's boy."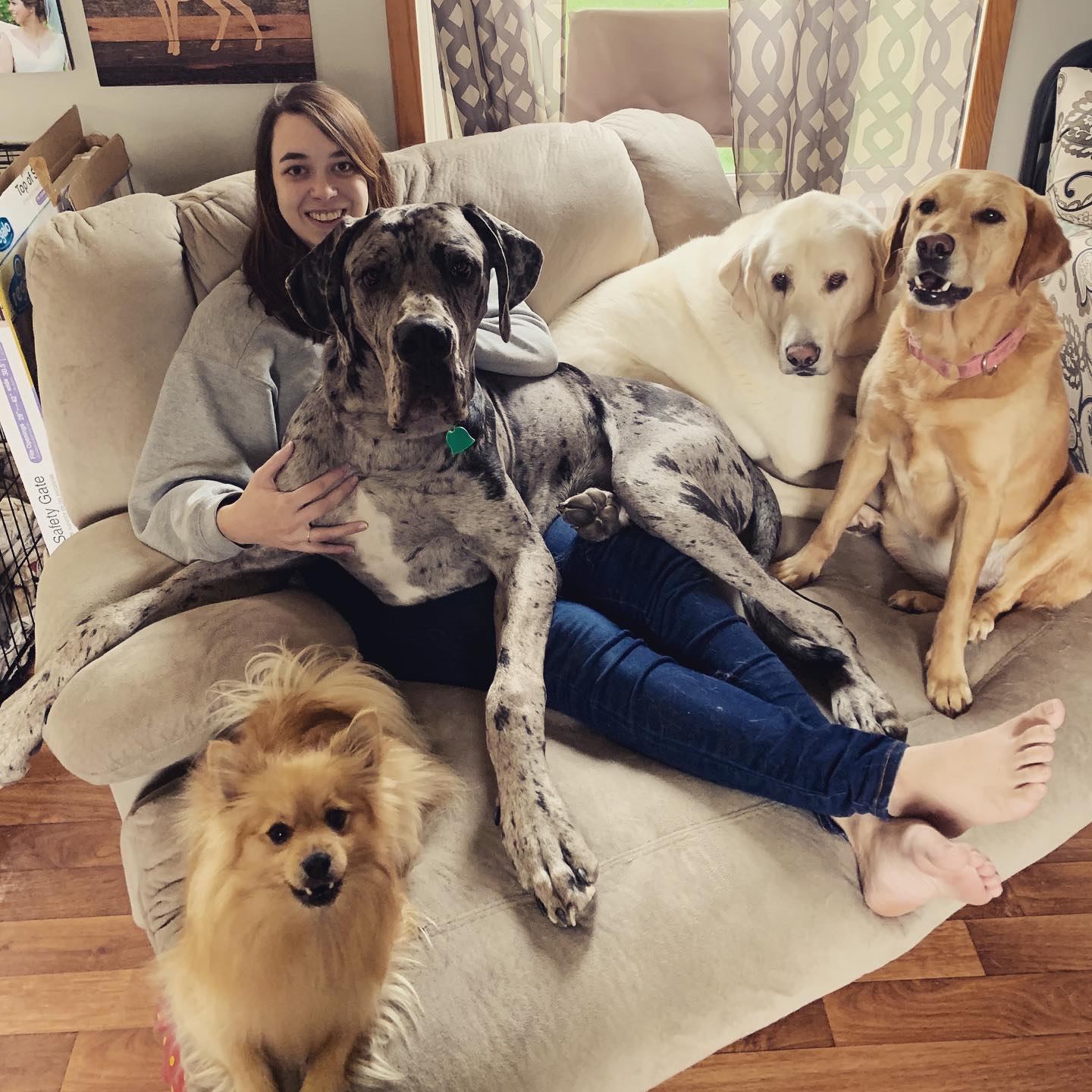 Though not everybody in the pack is giant Maximus's biggest fan, the family has nonetheless found its equilibrium.
"Cheyenne is a huge Daddy's girl and doesn't like sharing his attention," Ashlyn said. "She will play with Maximus on occasion, but she loves to play fetch by herself for the most part.
"Charlie is very laid back, and as long as his routine isn't messed up, then he doesn't really care," she continued. "Dahlia was excited to have another sibling to boss around and play with … [they] have no idea that they are different sizes.
"Maximus is Dahlia's 'right-paw dog,'" she joked.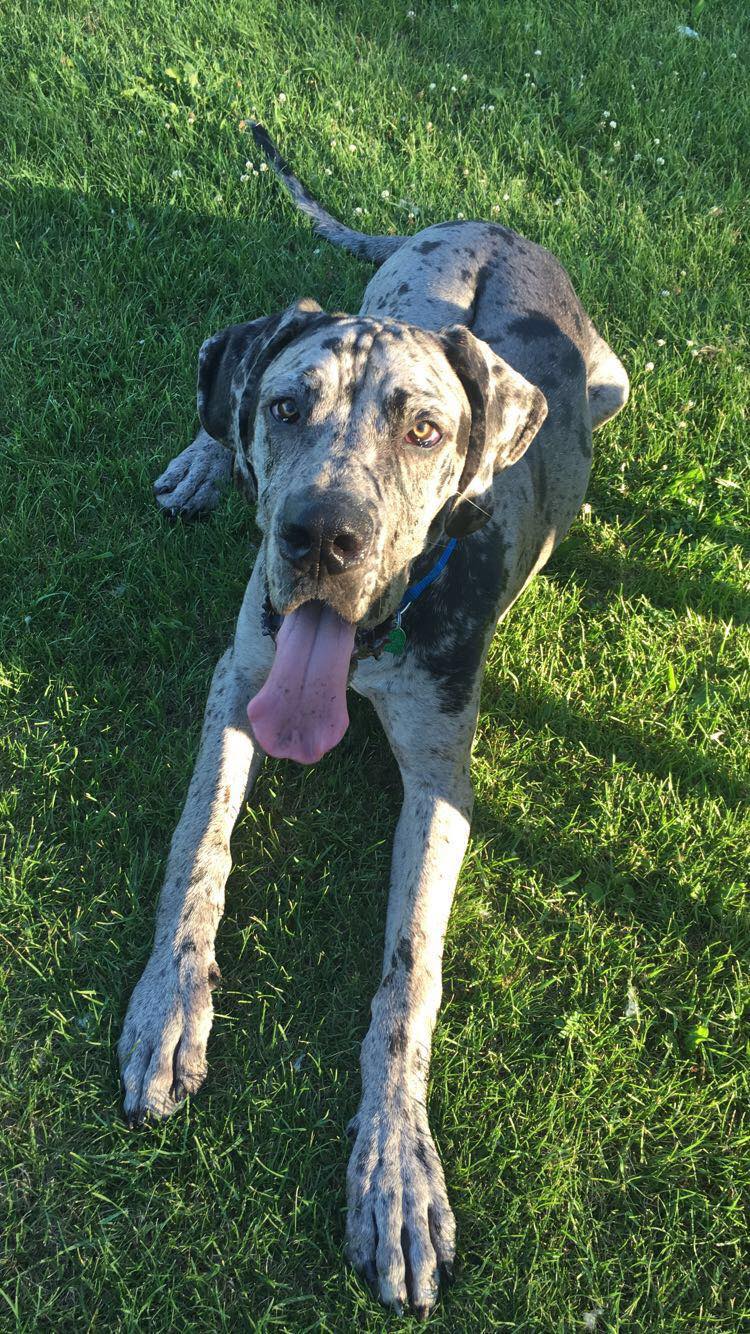 "My life is crazy with these four," Ashlyn said, "but I wouldn't want it any other way!"
Share your stories with us at emg.inspired@epochtimes.com, and continue to get your daily dose of inspiration by signing up for the Epoch Inspired newsletter at TheEpochTimes.com/newsletter