Article content
Four dogs fatally mauled a boy to death in Idaho last Saturday, according to reports.
Article content
The boy's mother was also injured in the attack and the animals were destroyed in the aftermath. Their owners were also cited with 15 local violations, police said, according to NBC News.
Article content
The dogs were two Rottweilers and a pair of mixed breed dogs. It happened in a part of the state located on a Native American reservation home to the Shoshone-Bannock Tribes, police said.
Both the boy and his mother — neither of whom are tribal members — suffered injuries and were transported to the Portneuf Medical Center, about 13 miles away. The boy's age and the mother's condition were not immediately available. Their relationship to the dogs' owners was not immediately clear, according to NBC.
The dogs were put down by tribal authorities, police said.
Article content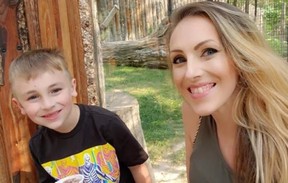 A GoFundMe page identifies the mother as Emily and the boy who died as Kellan, and states Emily "did everything in her power to protect Kellan from that attack."
The page claims the pair lived at the property where the attack occurred, and that Emily was rushed into emergency surgery and is in the ICU with "sustained nerve damage and a ruptured artery in her right arm as well as damage to the back of her head, left arm and her back."
Emily also has a daughter who was not present at the time of the attack, according to the GoFundMe.
RECOMMENDED VIDEO
The owners of the dog, who are not tribal members, were cited for 15 violations of the Tribes' Animal Ordinance, including for a vicious animal attack and being over the limit of pets allowed, police said, adding that the U.S. Attorney will also review the case to potentially file federal charges.
Fort Hall Police did not immediately respond to questions.
Local authorities are conducting an ongoing investigation in conjunction with the FBI, police said.