Howie The Fundraising Cat that helped raise more than $100G for a Norfolk animal rescue died this week just days before a big fundraiser in his honour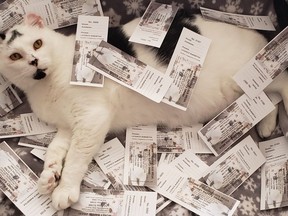 Article content
Howie the Fundraising Feline helped raise more than $100,000 for a Norfolk animal rescue organization.
Article content
From birthday parties, raffles, donut drives, Howie, an adopted cat from Purrfect Companions of Norfolk, and his pet parent raised thousands for the Delhi-based shelter.
Howie was taken to Purrfect Companions after being hit by car in February 2017. He recovered from his injuries with care from staff at the facility and was adopted by shelter volunteer Angela Britton on December 25 of that year.
"I was dropping off food at the shelter that my other cats raised money for and Howie was the office cat.  I met him and I had been following his story and everybody loved him so I assumed he would be adopted long before I got the chance to even meet him," Britton said in a recent interview. "There he was. I just absolutely fell in love with him."
Howie turned 11 years old on February 1. Plans were to have him celebrate at Howie's Big Summer Bash on August 6 at the Royal Canadian Legion in Delhi.
Unfortunately, Howie died earlier this week from lung cancer that was diagnosed on June 29. At that time he was given a life expectancy of only weeks.
On Monday, Britton posted the news to Facebook: "February 1, 2011 – August 1, 2022. Howie, if love could have saved you… you would have lived forever. After everything you went through, I promised you that I would never let you suffer or be in any pain. Now I know, for sure, it was a promise that I kept. Thank you for choosing me to be your Momma. I will love you with all my heart forever and always Howie. Love Momma."
Article content
In a message to the Reformer on Friday, Britton said, "He was definitely a once in a lifetime cat and we will all miss him immensely."
So how did Howie and Britton raise all that money? It was done through raffle draws, donation drives, donut sales, Howie's painting and paw-print auctions, as well as in-person and virtual birthday parties.
Over the years, Howie underwent numerous surgeries such as teeth removal and having a pellet removed from his leg. In 2019, it was discovered that Howie had cancer in his ears after previously being mistaken for frostbite or a scab. Howie underwent double ear removal surgery, which resulted in a cancer free diagnosis.
"He has brought so much happiness, joy and laughter into my life," Britton said. "After all the horrible things that Howie has been through, I'm so glad we got to spend our time giving back to help others."
Howie's Big Summer Bash fundraiser will go on as planned from 1 p.m. to 4 p.m. where guests can bring items to donate to the shelter.
Saturday's party will include some of Howie's feline friends, as well as raffles, cake, games, BBQ and colouring contests. Tours of the Purrfect Companions shelter will take place simultaneously with the celebration. People can message Howie's fundraising feline Facebook page to book a tour.
Howie not only raised funds but also a strong fan base over the years. A Facebook page has more than 2,000 followers, many of whom offered messages of condolence.
To follow Howie's story visit the Facebook page
www.facebook.com/howiethefundraisingfeline/
.