A Tauranga veterinarian has described in detail her alleged attack by a large rottweiler, who is facing euthanasia.
Dr Liza Schneider was the first witness in the judge alone trial of Helen Fraser who is facing a charge of owning a dog causing injury at the Tauranga District Court today.
If Fraser is found guilty Judge David Cameron must order the destruction of the 2-year-old male rottweiler Chopper, unless exceptional circumstances can be proven.
He has been in the Tauranga City Council dog pound since the attack on October 14, 2021.
Fraser's defence is based on the claim the vet is responsible for the attack and Fraser's actions did not cause it.
Prosecutor Nathan Speir explained to the court that the legal test was whether Fraser took "all reasonable steps" to avoid the attack.
Schneider said Chopper, arrived for an appointment at Holistic Vets to be neutered and it was pre-arranged that the dog would initially be assessed in the owner's car because of concerns she had raised about the dog's aggression towards other animals.
The veterinarian said when she went to assess Chopper she saw he was not in the car and was being held by Fraser's son.
"[I was] expecting to see Chopper in her [Fraser's] car," said Schneider.
 Shortly after greeting Helen and her son, Schneider claims the dog lunged at her and bit her arm.
"He lunged at me and grabbed hold of my arm. I was in a puffer jacket and managed to get my arm out. I noticed my arm was bleeding."
She said she was standing around 2 metres away from Chopper when he lunged "which would've been a safe space for most dogs".
The injury to Schneider's right arm included a fractured ulna, four puncture wounds, nerve and muscle damage. The injury required a three hour surgery and a plate and six screws.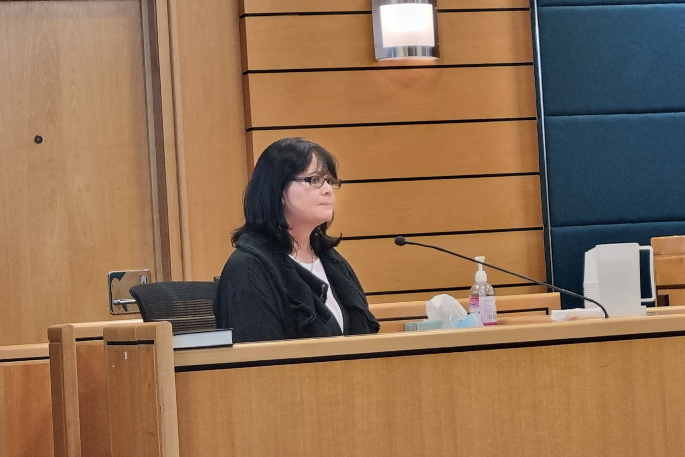 Helen Fraser is facing a charge of owning a dog causing injury. Photo: Alisha Evans/SunLive.
Defence lawyer James Carter told Schneider Fraser expressed sorrow for the injury she received that day.
"It's very regrettable from Miss Fraser's position as to what happened that day."
Carter questioned Schneider as to whether she could have asked Fraser to put Chopper back in the car.
Schneider said she didn't want them to put Chopper back in the car because that would bring him closer the entrance of the veterinary clinic which could have put other animals at risk.
Carter asked if the use of a muzzle was considered.
Schneider said muzzles were considered after the initial consultation. Muzzles can cause some dogs to "very anxious", she said.
"Many dogs do not tolerate muzzles," said Schneider.
The trial continues.
Public Interest Journalism funded through Nz On Air.