They say that cats always land on their feet, but what about dogs? A daring pooch has the internet in hysterics after jumping out of a first-floor window to greet a car pulling up in the driveway.
Shared by TikToker @ciaragodfrey on July 21, in the CCTV clip, which can be seen here, Gary the poodle can be seen launching himself out of the window before landing safely on the gravel below. He then happily trots up to the car as it drives through the front gate.
"Anyone else's dog launch themselves out of a window today or just mine?" she wrote alongside the video.
TikTok users couldn't get enough of Gary's death-defying leap, with the clip receiving over 470,000 views, almost 30,000 likes and nearly 1,000 shares.
There have been numerous studies on why cats can land on their feet, dating back as far as the 1700s. Dubbed "cat-righting," in 1935 Dutch physiologists G.G.J. Rademaker and J.W.G. ter Braak identified a maneuver they called the "bend and twist" that is vital for felines to land safely.
When falling, a cat will twist both halves of its body in different directions, balancing out any momentum towards one particular angle. When the cat unbends, it will have re-orientated itself to land upright. However, there are still pieces missing to the puzzle of this unique ability, with scientists believing there are several different reflexes and maneuvers involved.
Although canines have their own skill sets, they do not possess the reflexes needed to land on their feet like cats do. Still, they can be formidable jumpers. In 2019, Spitfire the Whippet broke the record for the highest vertical dog jump, reaching an impressive 8-feet and 4 inches in height.
TikToker Lily Williams dubbed Gary's window dive "Gold."
"Thank God for CCTV," she wrote.
"It gets funnier every time," said Brooke Hennessy.
"Sorry but this is cute and funny rolled into one," commented Gemma-Louise, while User18383 requested the footage in slow motion.
Although seemingly unbothered by his two-floor fall, some users wanted to double-check that Gary wasn't injured. Fortunately, Ciara clarified that "no poodles have been harmed" during the making of the video.
"He's fine," she responded to user Sihihihh. "Don't know how."
Newsweek has reached out to @ciaragodfrey for comment.
Gary isn't the only pup whose dramatic leap had the internet in stitches. A Labrador named Charlie went viral recently for his "not so graceful" leap into his owner's pool, while a Pointer Mix wowed TikTok users with her "barkour" skills.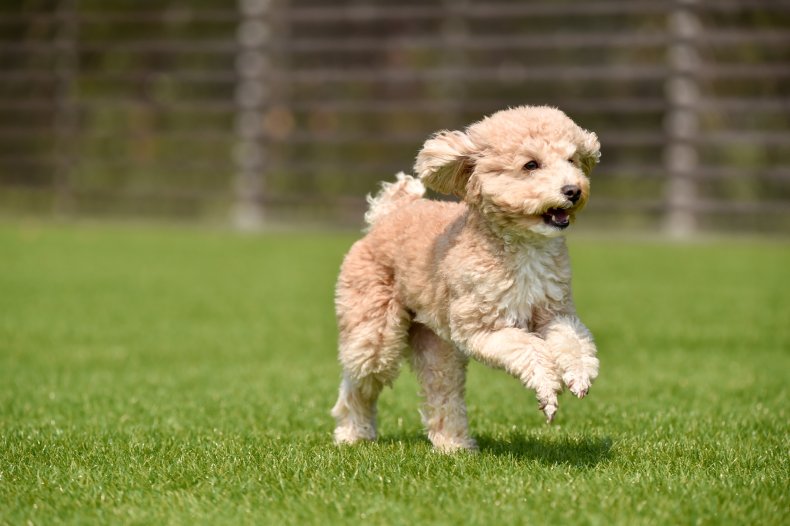 Do you have funny and adorable videos or pictures of your pet you want to share? We want to see the best ones! Send them in to life@newsweek.com and they could appear on our site.