Britney Spears' home got a little more lively over the weekend, when her fiancé, Sam Asghari, surprised her with an adorable new puppy called Porsha.
And as the Doberman settles into life with the celebrity couple, Asghari has revealed that he will not be putting their four-legged friend through the procedure of ear cropping.
The practice of ear cropping has long been done for a range of reasons, from reducing the risk of infection in the dog to plain old cosmetic preferences.
And after going for a night walk with Porsha on Tuesday, actor and personal trainer Ashgari took to his Instagram Story to answer fans' questions about whether the couple would be cropping the puppy's floppy ears.
"A lot of you guys are asking if we're gonna clip the ears, crop the ears, and the answer to that is absolutely no," said Asghari. "The reason for that is, first of all we love her floppy ears. Two, she's a lover, not a fighter. She's a protector. And three, it actually turns out that it's pretty cruel to do that to Dobermans, or any dog.
"It's actually a fashion statement. It's something that people do for cosmetic reasons. And all the other excuses that are out there, like an ear infection and this and that, is actually a myth. It's not true, so we're not gonna do that."
"Unfortunately, when we got [Porsha] her tail was already cropped," he said as he held Porsha. "If I was to go back, I wouldn't do that to her."
Asghari went on to add that the surgical procedure and subsequent recovery process "actually affects the puppy psychologically and creates that trauma because puppies are so young and they're developing."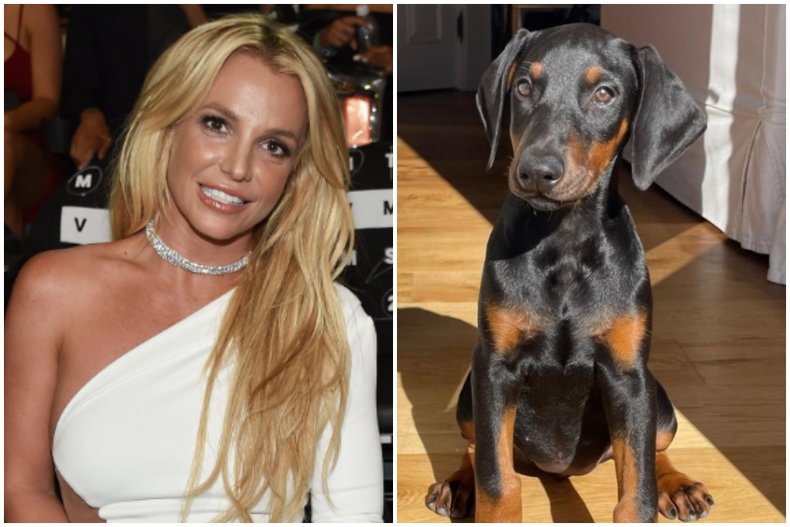 However, he admitted that he appreciates the appearance of cropped ears as "it looks like Batman, super aggressive, beautiful."
"But so is this, it's adorable," he said as he motioned to Porsha's ears. "She's a lover, not a fighter, like I said. And all the other reasons for that is literally being selfish and it's a fashion statement."
Crediting the People for the Ethical Treatment of Animals (PETA) for his knowledge on the matter, Asghari concluded: "I highly recommend that you educate yourself on these things, because I didn't know. I thought these dogs come up with their ears like that."
The American Veterinary Medical Association (AVMA) stands against the practice when used purely for esthetic purposes, stating on its website: "The AVMA opposes ear cropping and tail docking of dogs when done solely for cosmetic purposes. The AVMA encourages the elimination of ear cropping and tail docking from breed standards."
In a statement Newsweek, PETA founder Ingrid Newkirk commended Asghari for his decision not to crop Porsha's ears.
"Many truly well-intentioned people, like Sam, don't have a clue that cropping dogs' ears is done purely for appearance's sake and is terribly painful and traumatic to a dog or that the practice is universally condemned by ethical veterinarians and banned altogether in the U.K. and some other countries," Newkirk said.
"PETA thanks Sam Asghari for letting Porsha keep the lovely, natural, floppy ears that she was born with, and we hope that his millions of followers will listen, take note, and love dogs just the way they are."
Over the weekend, Asghari posted a video of himself holding Porsha, as Spears was heard asking off camera: "Who's the new addition to the family?"
"Her name is Porsha, and she's meant to unconditionally love you and is gonna be trained to protect you from any mother****** that comes around you with bad intentions," the star's husband-to-be responded.
Captioning the heartwarming footage, Asghari wrote: "Surprised my fiancé with our newest member to the Family ❤️ Porsha #doberman #homesecurity."
Spears and Asghari announced their engagement in September, after five years of dating. They met on the set of Spears' "Slumber Party" music video back in 2016.
UPDATE 10/13/21, 11:35 a.m. ET: This article was updated to include a response from representatives for PETA.