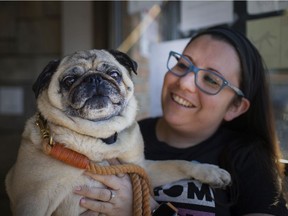 Article content
It can be ruff dealing with sudden fame but for Windsor's Franklin the pug the newfound virtual celebrity status is a walk in the park.
Article content
Franklin is the star of an 11-second TikTok video that went viral almost immediately after his person, Jen Boutet, hit the upload button and shared his adorable reaction to her telling him her name.
"He makes us laugh constantly," Boutet said of her nine-year-old, 24-pound canine companion.
In the video, Franklin can be seen sitting on a blue velvet sofa. Boutet opens by saying, "I just realized my dog is 9 years old and I never told him my name."
She then says to Franklin, "My name is Jen."
His reaction has been viewed more than 22.5 million times as of Wednesday.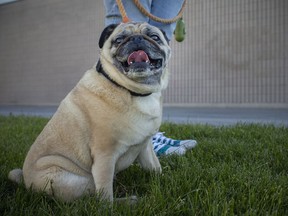 "I think people just love a cute, happy, little dog story right now," Boutet, 34, said. "(The video's) not long, it's like 11 seconds long. It can just make you smile.
Article content
"And it's gotten over five-million likes so that's what I like about it. I like the fact that I can make over five-million people smile, from literally around the world."
Boutet said viewers are now using the duet feature on TikTok, a video-sharing social networking service, and posting video of themselves side-by-side with Franklin's video.
"It's them watching the video," she said. "I just get to watch Franklin make all of these people laugh. And they're reposting it in Russian and all kinds of languages. It's so cool."
The idea for the video came after Boutet saw a similar video.
"I thought well, I'll try it on Franklin and see how it goes. And he just had the best reaction."
The video had 40,000 views almost immediately and by the following morning, it was at 3.8-million views, growing to 18 million in 24 hours.
Article content
Boutet said she had only about 3,000 followers on her social media account at the time. She now has 110,000.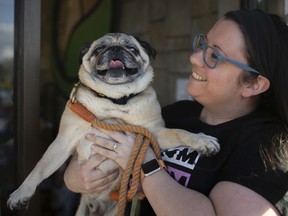 Since she linked the video to her Instagram profile in her TikTok, she's had numerous people ask to share the video.
"One account that had 28,000 followers asked if they could re-share it," Boutet said. "And it got millions and millions of views just from that site re-sharing it."
Windsor couple games up on DeGeneres show

Assumption high school virtual karaoke video draws attention on TikTok
The popularity of the video has led to Boutet signing an exclusive agreement with a company affiliated with The Ellen DeGeneres Show and the NBC network, allowing them to show the video if they choose. She has also been approached by the television newsmagazine E!News.
As for Franklin, he's taking all the attention in stride — happy to have a belly rub and a bowl full of strawberries to eat.
jkotsis@postmedia.com